2023 Baseball World Series

All Tournaments Will Be Held In Southaven MS.
The 2023 Dizzy Dean Baseball World Series will be held At Snowden Grove Park in Southaven, MS.
Entry into this event is for Dizzy Dean Sanctioned Baseball teams only.

Entries must be submitted on a Dizzy Dean World Series Entry Form and signed/approved by the respective Dizzy Dean National Board Member of your state or a designee by the Commissioner of Dizzy Dean Baseball. Your Dizzy Dean National or State Director will then forward the completed entry with his/her signature and a letter of transmittal.

Teams will be required to pay a refundable appearance fee of $250 for this event. The "appearance fee" will be returned to the team upon completion of the team's obligation (i.e. participation through the completion of the World Series or upon elimination from the tournament).

If a team fails to fulfill its obligation (withdraws from or does not participate in the tournament), the "Appearance Fee" will be given to the host facility to cover expenses/income that have been lost due to a team not fulfilling its obligation.
2020 REMINDER:
If a pitcher reaches a day(s) of rest threshold while facing a batter, the batter reaches base; (2) that batter is retired or (3) the third out is made to complete the half-inning or the game. The pitcher will only be required to observe the calendar day(s) of rest for the threshold he/she reached during at-bat, provided that pitcher is removed or the game is completed before delivering a pitch to another batter.
HOME OF THE DIZZY DEAN BASEBALL WORLD SERIES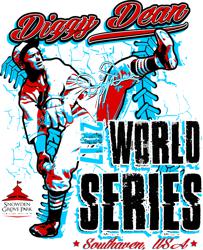 2023 WORLD SERIES
ALL AGE GROUPS
Snowden Grove Park
Report June 26, 2023
Play Begins June 27, 2023